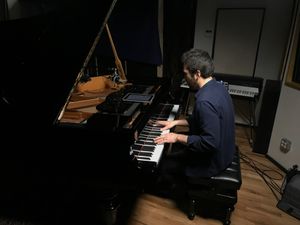 THE RECORD
  Progress is being made on the new album, and my excitement just keeps growing exponentially with each recording session. Two LA sessions, one NYC session and a piano duo session in Montreal are all in the bag. 11 musicians have been included on the album, with 3-4 more left to go! One more NYC session is on the books for April, and then all the tracking will be finished.
  I'm particularly excited to explore the editing process with this record. I know that in this day and age, it's more en vogue to focus on singles, soundbites, earworms - anything that is quickly and easily digestible. But I've always wanted to make a studio record that feels complete from top to bottom. Not just putting the songs in the right order, but crafting transitions, interludes, and the like. I know that there are still people out there that want to listen to and appreciate a record as a body of work, not just a collection of singles. And I look forward to hopefully meeting those expectations!
 
---
THE BAKED POTATO
  In other exciting news, I'll be playing a 3-month residency at the Baked Potato, one of the coolest jazz clubs in LA (if not the world!) and a venue that has been dear to my heart since childhood. I grew up going to shows at this place, and when I was lucky enough to book my first show there in 2012, I recorded it for posterity - and it became my first album. I couldn't be happier to finally be setting up a semi-regular engagement at this club! We'll be there the last Monday of the month in March (30th), April (27th) and May (25th).